Zoom (videoconference)
Service available for students and staff
Zoom is a videoconferencing system used at Université Grenoble Alpes.
Presentation and access
Zoom allows you to organise remote meetings by videoconference (or audioconference if you do not use a webcam).
To use Zoom, go to
https://univ-grenoble-alpes-fr.zoom.us/
. To join or create a meeting, click respectively on "Join - Connect to a meeting in progress" or "Host - Start a meeting" depending on the desired action, then connect using your usual UGA login details (Agalan). You will have to save and then run a file.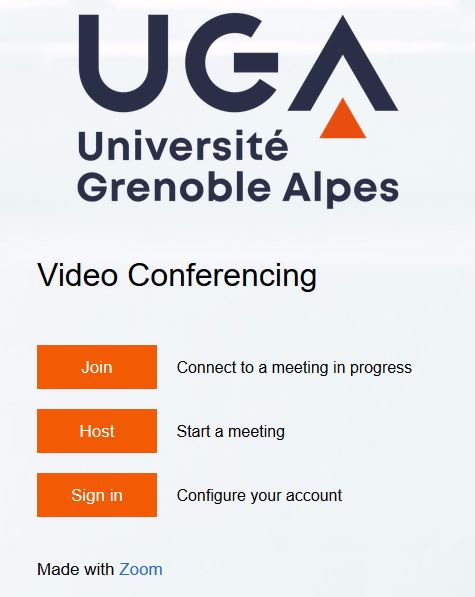 To configure your account, click on "Sign in - Configure your account" then authenticate with your usual Agalan UGA login details. You will have to download the Zoom heavy client (recommended) by clicking on "Resources" at the top right of your screen, then on "Download Zoom client".

If you are using the heavy client, you will have to select "Connect with SSO" then enter the domain: univ-grenoble-alpes
-fr
(make sure you enter
-fr
and not .fr) before clicking on "Continue" then "Launch Zoom".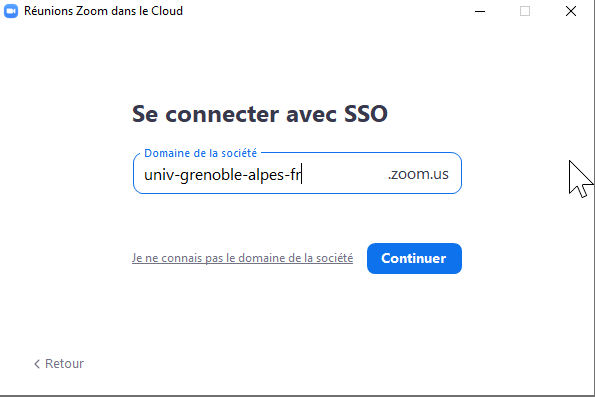 If the following alert appears, tick the three "Networks" boxes and then click on "Authorise access".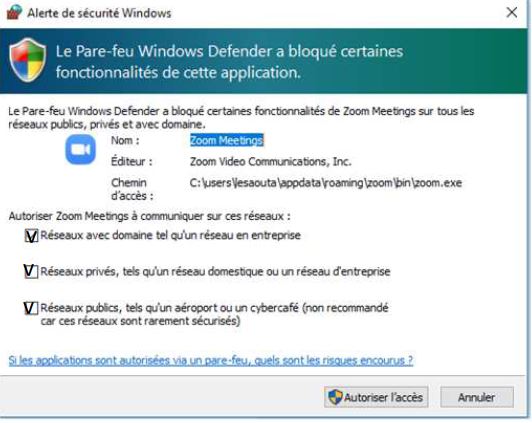 Functionalities
Up to 300 people can use this service simultaneously in the same meeting.
Among these functionalities, you will find the possibility:
to invite outsiders;
to record sessions (by informing the participants beforehand);
to use surveys during the videoconference (with anonymity of the respondents);
to share your screen;
to use a whiteboard.
Good to know: If you had previously created a free Zoom account with your UGA institutional address, Zoom may ask you to convert the existing account. To do it, follow Zoom's instructions.

Important information
If you are connected by Wi-Fi, and to ensure a more reliable connection, you must be connected to the Wi-Fi point that provides the best transmission from your location. To do this, start or restart your computer at the beginning of the videoconference or disconnect and reconnect the Wi-Fi network (on most laptops, there is a button to switch it off and on again).
On campus, you can use the
wifi-campus network
, but if possible, prefer to use the
eduroam network
, and avoid using the VPN.
Data protection
The Université Grenoble Alpes processes your personal data in the context of providing a remote working solution with the Zoom videoconferencing application.
The data required to create your account (surname, first name, institutional email address) is accessible to authorised people from the IT services department, as well as to the Zoom subcontractor and its partners. They are kept for the duration of the validity of your account.
Registration data related to a session (videoconference, virtual classroom, etc.) isn't kept by the subcontractor. For educational purposes, they may be recorded "locally" by the session organiser and made available at a later date on the UGA educational platforms. You will then be informed by a specific message.
Finally, Zoom collects for each session technical information relating to connections, including the IP address of the participants.
In accordance with the General Data Protection Regulation (GDPR) and the amended French Data Protection Act of 6 January 1978, you can access your personal data, rectify them, request their deletion or exercise your right to limit the processing of your data.
You can exercise these rights at the following address:
help@univ-grenoble-alpes.fr
. You can also contact the DPO (Data Protection Officer) relay at
relaisDPO@univ-grenoble-alpes.fr
.
If need be, you can send a complaint to the CNIL.
Updated on May 7, 2021